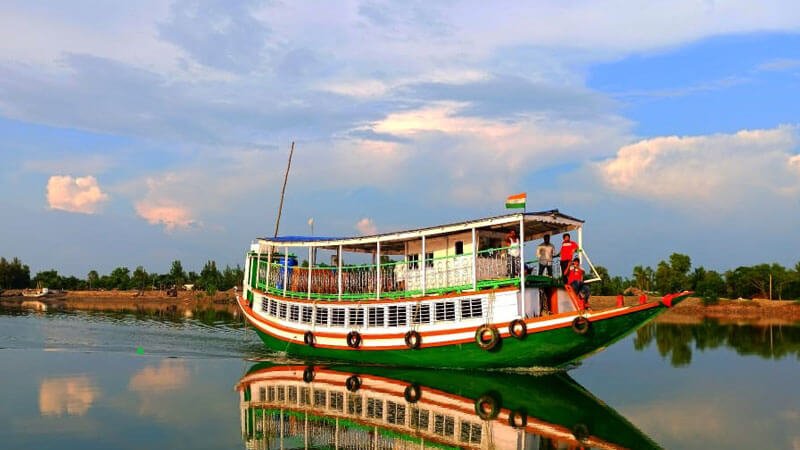 You can avail full-day boat safari experience for natural view, animal sightings, and lots of exotic birds. If you are traveling in the winter, you can also get a sight of migrated birds like Brahmani Kites and others. The boat goes through the creeks and always creates suspense which gives a different thrill than other tourist destinations. Crocodiles are another point of attraction in Sundarban which are sighted easily on any trip. However, spotting a Royal Bengal Tiger during Sundarban Boat Safari is a matter of luck.
We have a sweet water pond within the resort premises. For those who love to spend some leisure and idle time, we may provide them with fishing amenities. It is a wonderful experience of fishing within the greenery of our resort which you wouldn't get in other properties in Sundarban. However there is a price chart for fishes, so whatever you catch you can get at a discounted price.
Sundarban is always an ornithologist's destination with a wide variety of birds that can be observed here. Below is a chart of birds, which you can generally watch in Sundarban areas. Small Minivet, Black-capped kingfisher, Loten's Sunbird, Asian dowitcher, Northern eagle owl, Pale-billed Flowerpecker, Common Wood, shrike, Gull-billed Tern, Purple Sunbird, Common Flameback, White ibis, Brown-cheeked Fulvetta, Fulvous-breasted Woodpecker, Black-necked stork, Striped Tit-Babbler, Peregrine falcon, White-collared kingfisher, OspreyNorthern Pintail, White-bellied sea eagle, Brown fish owl, Green-backed heron, Scaly-breasted Munia, Grey-headed fishing eagle, Pallas's fish eagle, Baya Weaver, Swamp francolin, House Sparrow, Purple Sunbird, Cinnamon Bittern Tree Pipit, Yellow Wagtail, Cinnamon Bittern, Pale-billed Flowerpecker, Loten's Sunbird, Mangrove Whistler, Striped Tit-Babbler, Striated Babbler, Black-hooded Oriole, Brown-cheeked Fulvetta, Lemon-rumped Warbler, Greater adjutant stork, Indian Scimitar Babbler, Ashy Prinia, Asian openbill stork, Red-whiskered Bulbul, Asian Pied Starling, Purple heron, Egrets, Blue-throated Flycatcher, Lemon-rumped Warbler, Brown-winged kingfisher.
Sundarban jungle safari has always been a thrilling experience for tourists. Netadhopani watchtower provides the canopy walk with a thrilling wildlife view. Nature walks are always a pleasure however Sundarban is one of the dangerous areas in the world because of its deadliest animals like man-eater Royal Bengal Tigers and reptiles like crocodiles & other venomous snakes. Because of its deadly nature, you are always suggested to stay associated and guided by local guides while going for a nature walk.